Ptosis Surgery – Droopy Eyelid Surgery
Droopy eyelids are among the most common eyelid problems that patients deal with. The term "droopy eyelids" can mean many different things. Frequently, patients are referring to excess skin in the upper eyelid. This is treated with blepharoplasty surgery. Other patients may notice that their brows are droopy and they need a brow lift. Still other patients have an eyelid that covers their eye and, as a result, may affect their vision. This is a specific eyelid condition called ptosis – a Greek term that means "to fall." Ptosis is a condition that can affect patients of all ages, and it is often treated differently depending upon the cause and severity of the droopiness.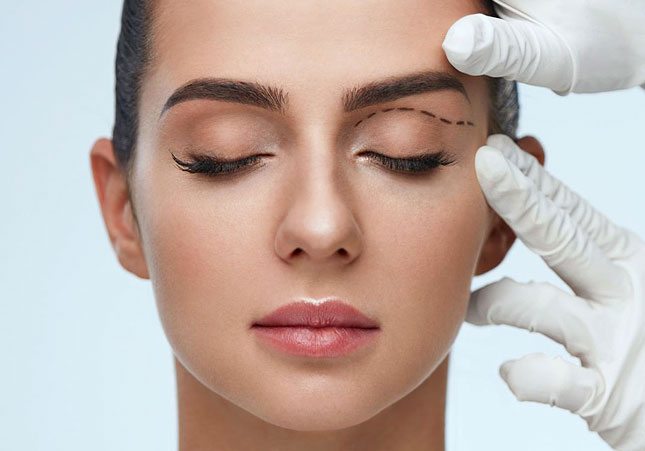 How does ptosis show up in adults?
The most common presentation of ptosis is in adults. In the upper eyelid, there are two muscles that work together to lift the eyelid. As we age, the larger of the two muscles can slip out of position, causing the eyelid to fall down. This type of eyelid droop tends to occur more frequently as we get older. Additionally, the muscle can slip as a result of eye surgery. Cataract, glaucoma, and retina surgery can also cause the eyelid muscle to slip. There are also neurologic conditions that can cause an eyelid droop. For younger adults, we tend to see eyelid droop occur either as a result of injury, or in patients who wear contact lenses.
How does ptosis show up in children?
While aging is the most common cause of ptosis, childhood, or congenital ptosis presents in roughly 1 in 900 children. Congenital ptosis is a droopy eyelid that is present from birth. This occurs because the eyelid lifting muscles do not develop as well in the eyelid as they should. In fact, when we look at these muscles, we actually see scar tissue in place of a significant amount of muscle. This means the muscle cannot lift the eyelid as well, and the result in an eyelid that is droopy. As children, our vision is developing based upon the clarity of what each of our eyes see. If an eyelid is droopy enough to cover the eye, it can impair the development of vision in that eye. In these situations, it is important that the eyelid is lifted quickly so that vision can develop normally.
How is a ptosis surgery performed?
Ptosis surgery in adults is typically performed while patients are awake.  This allows Dr. Dewan to ask patients to open and close their eyes during surgery to ensure the most symmetric results.  The surgery can be performed in a few different ways depending upon the amount of ptosis and the functioning of the muscle.  Dr. Dewan will thoroughly evaluate your eyelid functioning during your consultation and provide a recommendation on the best method of surgery.
There are three main approaches to ptosis surgery:
The classic approach involves making an incision in the eyelid crease, which is a well-hidden incision. From here, Dr. Dewan can access the large lifting muscle in your eyelid.  Using stitches, he will tighten your muscle so that it can lift more strongly.
An alternative approach involves tightening the muscle from the underside of the eyelid. This method avoids an external skin incision and allows for faster healing and recovery.
For patients with poor muscle functioning, the best way to lift an eyelid is to use muscles that work better than your eyelid muscle. This typically means using an implantable silicone band to allow your eyebrow muscle to help lift your eyelid.
For patients that do not want surgery, there is a new eye drop that can also temporarily lift your eyelid.  Dr. Dewan can offer this to you if surgery is not the best option.
Does ptosis surgery cause scarring?
Depending upon the method of ptosis surgery recommended for you, ptosis surgery is performed either through a skin incision in the eyelid, or without a skin incision at all. If an incision is necessary, it is made in your natural eyelid crease. This makes for a well-hidden location for your incision. This skin is also among the thinnest in the body which means that the scarring here is almost invisible. Scars in the eyelid do not thicken or raise and, even in patients that form keloids, we do not see significant long-term scarring.
What is the recovery like?
Ptosis surgery results in very little pain for our patients. Most patients take Tylenol or ibuprofen for 1-2 days following the surgery. We also ask that our patients use lots of ice in the first 2 days after surgery. This helps to minimize pain and also helps the swelling go away more quickly. After the 2nd day, we typically have patients switch to warm compresses, which help to remove the bruising. Once surgery is complete, there may be a small bandage on your eye that you will remove the morning after surgery. At that time, we ask patients to apply antibiotic ointment to the incisions. Some patients experience dry eye symptoms of irritation, so we encourage our patients to use artificial tears as needed. There are very few restrictions on your activities after surgery, and you can drive and shower the day after surgery. The stitches typically dissolve within 10 days. Dr. Dewan will see you 1 week after surgery for a post-operative check.
Does insurance cover ptosis repair surgery?
Ptosis surgery is frequently covered by insurance if the droopy eyelid is affecting your vision. Most insurance companies have specific criteria based on measurements of your eyelid position, as well as blockage of your peripheral vision as measured by a test called a visual field. This quick test measures the amount of side vision that is being blocked by your eyelid position and also predicts how much improvement you would get with ptosis surgery. During your consultation, Dr. Dewan will make the necessary measurements and conduct the visual field test. Our office will then submit this information to your insurance for authorization. If approved, the insurance company will cover the surgery for you. If you do not meet criteria, you can still proceed with surgery and our office will provide you with a quote for surgery.
The following pictures provide examples of ptosis and the post-operative outcomes. Our pictures are unretouched photos and we prefer to show pictures from shortly after surgery so you can also see what to expect shortly after the procedure.


An oculoplastic surgeon will give you
the best results.