Revisional Droopy Eyelid Surgery
Droopy eyelids are among the most common eyelid problems that patients deal with. The surgery for droopy eyelids is a complex and nuanced surgical procedure. In fact, many plastic surgeons choose not to perform this surgery because of its difficulty. The surgery is made even more difficult if it already went wrong once. It is important that patients who desire eyelid correction seek out experienced eyelid surgeons in order to achieve the best outcome possible. Dr. Dewan is one of the most experienced revision eyelid surgeons in Minnesota and will provide you with honest advice so you can achieve the best possible results.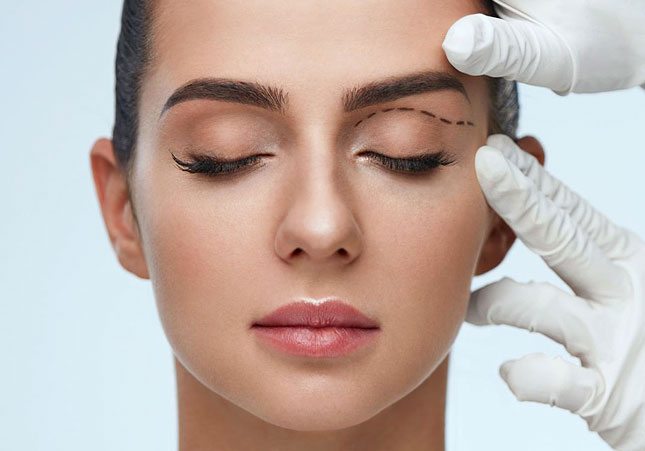 What makes revisional ptosis surgery so challenging?
Initial ptosis surgery is already a complicated, delicate surgery. In an ideal circumstance, the landmarks we look for as surgeons are all untouched. This provides a clear roadmap to the muscles of the eyelid and the structural supports that we have to attach them to in order to get a good eyelid lift. When an eyelid has already been through surgery, the landmarks are frequently covered in thick, difficult-to-navigate scar tissue. The muscles themselves may no longer be moving freely, resulting in a difficult surgery that not only needs to lift the eyelid, but that also needs to provide a good cosmetic outcome. The muscle actually creates the natural eyelid crease, so if it is covered in scar tissue, the crease is frequently misshapen. To form a new crease, the scar tissue has to be removed and special stitches used to recreate a crease.
Will I be symmetric after surgery?
Dr. Dewan's goal is to always provide the best possible cosmetic outcome from surgery. Revision surgery is always challenging because so much of the final result is based upon what exactly was previously done and how your body healed afterwards. Removing scar tissue to achieve a natural look is always the goal, but every eyelid heals differently so it is not always possible to get as much lift or symmetry as we hope for. During your consultation, Dr. Dewan will discuss your goals as well as what he feels is a realistic goal. If symmetry is possible, he will do his best to get you there.
How is revision ptosis surgery performed?
Ptosis surgery in adults is typically performed with patients awake.  This allows Dr. Dewan to ask patients to open and close their eyes during surgery to ensure the most symmetric results.  The exact techniques used will depend upon the exact difficulties your eyelids have and what needs to be done to correct them.
There are a variety of approaches to revisional ptosis surgery:
In most cases, revisional ptosis surgery is performed because the eyelid is not lifted high enough. In these cases, most frequently Dr. Dewan uses an eyelid crease incision, which is nicely hidden in your eyelid crease, and is often the incision used for your initial surgery.  From here, Dr. Dewan will remove scar tissue that he encounters around your eyelid muscles.  This allows the muscles to freely lift the eyelid.  He will then use stitches to further tighten and elevate the eyelid to match the opposite side.
For cases where the eyelid is lifted too high, the muscle often needs to be lowered slightly. Once again, your old incision will often become your new incision.  From here, scar tissue will be removed and the muscle identified.  The muscle is then released and reattached in an appropriate position to match the eyelid height of the other eye.
In most cases, the eyelid crease also needs to be reestablished at a new height. Dewan will place special stitches in the eyelid to create a new, sharper eyelid crease, giving you a better cosmetic outcome.
Does revisional ptosis surgery cause scarring?
In most cases, Dr. Dewan likes to use the previous skin incision you had made in your first operation. This way, we can avoid additional scarring in the eyelid. Scar tissue will also be removed from inside the eyelid, helping the lid achieve a smoother appearance. By removing all this scar tissue, Dr. Dewan can avoid creating elevated, thicker scars in the eyelid. In all cases, the incision Dr. Dewan makes will be incorporated into a new eyelid crease, which will hide the incision nicely.
What is the recovery like?
Most eyelid surgery has very little pain in the post-operative period. Revisional surgery may have slightly more pain and discomfort as well as additional swelling compared to an initial surgery. This is because scar tissue itself contains many blood vessels and the tissue is thick and firm, causing more swelling to occur as you heal after surgery. The pain is easily controlled with Tylenol and ibuprofen. The swelling can be minimized by using lots of ice after surgery. We also prescribe antibiotic ointment to be used after surgery which will prevent infection and help the stitches dissolve following surgery. Most patients are able to do 80-85% of their day-to-day activities within 1-2 days of surgery. Dr. Dewan examines you during your post-operative visit 1 week after surgery;at this point, most patients resume all activities.
Does insurance cover revisional ptosis repair surgery?
Revisional ptosis surgery is covered by insurance if the droopy eyelid is affecting your vision. If you meet criteria that your insurance company provides regarding ptosis surgery, they may cover the surgery for you. Dr. Dewan will make measurements and conduct testing that your insurance may require. This information is sent to your company for authorization for surgery. If approved, they will cover the surgery for you. If you do not meet your insurance criteria, the revisional ptosis surgery will be deemed cosmetic. In these cases, Dr. Dewan will provide you a quote for the cost of surgery.
The following pictures provide examples of ptosis and the post-operative outcomes. Our pictures are unretouched and we prefer to show pictures from shortly after surgery so you can also see what to expect shortly after the procedure.

An oculoplastic surgeon will give you
the best results.