Upper Eyelid Surgery (Blepharoplasty)
Upper eyelid surgery, or blepharoplasty, removes excess skin from the upper lid area of the eye. Extra skin here can make your face look more tired and your eyes look droopy or closed. Dr. Dewan customizes his approach to surgery for every patient, and takes time to make sure your goals can be achieved. You will look natural and more youthful, not overdone or "surprised." This is a safe outpatient procedure that can help rejuvenate your appearance.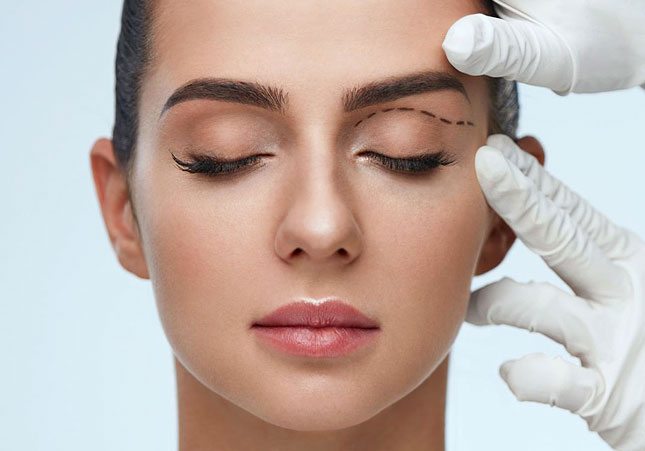 Why should I get upper eyelid blepharoplasty surgery?
Many patients mention they don't look as young as they feel, and want to reduce the puffiness or drooping of their upper eyelids. Upper eyelid blepharoplasty can help you look younger by removing excess skin that creates "droop" or puffiness around your eyes. During your consultation, Dr. Dewan will a custom plan specifically for you and your eye shape.
What is the surgery like?
We perform upper eyelid blepharoplasty in either a procedure room in our office or in a surgery center, depending on which is best for you and your health.
On your surgery day, Dr. Dewan reviews your surgical plan and confirms the goals for your surgery.
Dr. Dewan uses a local anesthetic to numb your eyelid – you will be awake during surgery so that you can open and close your eyes during surgery. This allows Dr. Dewan to make careful measurements and minute adjustments to ensure you end up with the best results.
The stitches are dissolvable, so you don't need to return for their removal. Surgery is over in about an hour.
You'll return in about a week for a post-operative visit.
Can I wear makeup afterward?
Absolutely! Upper eyelid blepharoplasty often creates a new "platform" for eye makeup! After you have healed, you can wear makeup normally. Being unable to wear makeup is one of the most common concerns that patients present. If needed, Dr. Dewan can incorporate "crease fixation," which can help define the crease area and provide an excellent base for your eye makeup.
Will I have a scar afterward?
The upper eyelid blepharoplasty incision is made in the natural crease of the eyelid, allowing for it to be hidden well. The eyelid skin is quite thin, so scarring is minimal, even for patients that historically have developed keloids.
What is the recovery like?
Usually, you will only need to take over-the-counter pain medicine. You will have some swelling and bruising for a few days, which you can treat with ice and heat. Most people are able to resume normal activity within 1-2 weeks. You'll receive a personalized recovery plan before your surgery. One week after your surgery, you will return for a post-operative visit, which will allow Dr. Dewan to check that everything is healing as it should.
What other surgeries are performed with upper eyelid blepharoplasty?
Many patients frequently want help with lower eyelid bags, and combine an upper eyelid blepharoplasty with a lower eyelid blepharoplasty. This shortens the recovery time versus doing the two surgeries separately. Doing both together gives you a complete rejuvenation for your eyes.
Commonly, patients may want to do ptosis surgery or brow lifting along with an upper eyelid blepharoplasty. Frequently, these can even be performed through the same incision we use for blepharoplasty, which makes these easy to add at surgery time and an easier recovery.
Botox and fillers can also be used after you've had a chance to recover from your surgery. Typically, we recommend waiting until after all the swelling is gone before having
any injections.
Our before and after photos are from right before the surgery to about 5-10 days after. All our photos are unretouched. You can expect additional improvements for several weeks after surgery, and most patients are so happy with their surgeries that they don't come in after the immediate post-operative visit (though we always are happy to see them).



Will insurance pay for this?
In some cases, upper eyelid blepharoplasty may be covered by insurance, depending on if your needs meet your insurance company's criteria.
These criteria include blockage of vision in your periphery, as well as measurements of eyelid position.
During your consultation, if your measurements indicate that you might have some blockage of vision, Dr. Dewan will perform a visual field test as required by most insurance companies.
This information is sent to your insurer; if merited, your insurance may cover an upper eyelid blepharoplasty
During your consultation, Dr. Dewan will provide an opinion on the best approach to your surgery and also provide you with a quote, including estimates for the surgery center fees.
An oculoplastic surgeon will give you
the best results.